Our Group Sales Office is here to assist you with reservations for 20 or more people.
Whether you are the party planner for your club or association, a Girl Scouts Troop mom, a corporate events coordinator, a classroom educator, a tourism & travel industry professional, or someone organizing a family reunion for that special birthday or anniversary, Beef & Boards Dinner Theatre is the perfect destination for your group. 
Why choose us? Because we specialize in hosting groups, and we've been doing it since 1973. We can offer your group dinner, full bar service, and great live entertainment all in one location. We are conveniently located at Michigan Road & I-465 on Indy's northwest side, with plenty of free parking for cars and buses. If you are planning an overnight stay, there are a dozen hotels right in the College Park area, including two within walking distance of the theatre. Whether your group is as small as 20 people, or as large as 450, we make it easy to plan an event at Beef & Boards. Let us take care of all the details for you. Use our online reservation request form, or call us for information about bringing your group to Beef & Boards.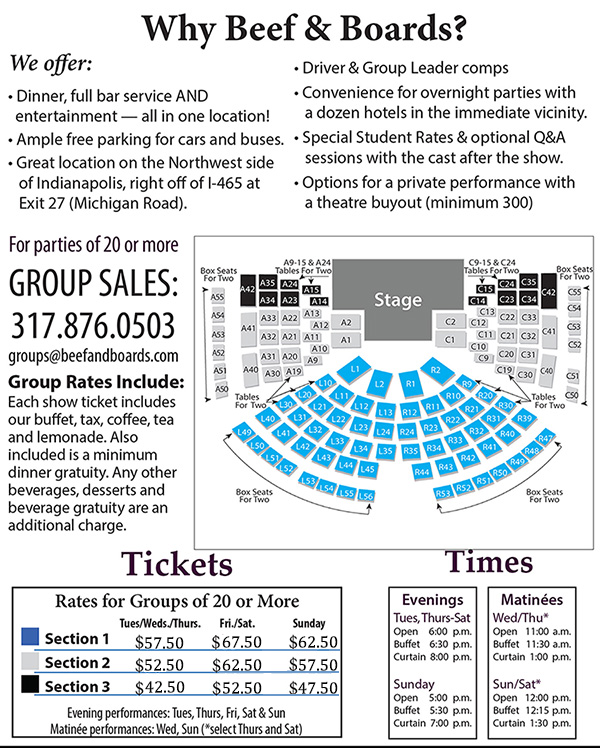 Group rates may not be available for peak dates or December 1-23.
The prices listed above are the per-person discounted rates for parties of 20 or larger. 
Discounts available for children ages 3-15. 
Children under age 3 not admitted to mainstage shows. Not all shows are suitable for all ages. 
All patrons must purchase a seat to attend.
Groups of 300 to 450 people are the ideal size for a private performance. Consider a theatre buyout for your company or group's special occasion. Reservations 9+ months ahead may be necessary for a private buyout.